We all know you're supposed to drink eight glasses of water a day, but that's easier said than done. Luckily, there's an easy way to up that healthy hydration: get your home to help you out.
A household water filtration system is the secret to consuming more water, and effectively reducing harmful substances in the process. Whether you install an under-sink filtration system, a faucet-mounted option, or a countertop model, bringing a water filter into your space is the key to turning your tap water into something crisp, clean, and refreshing.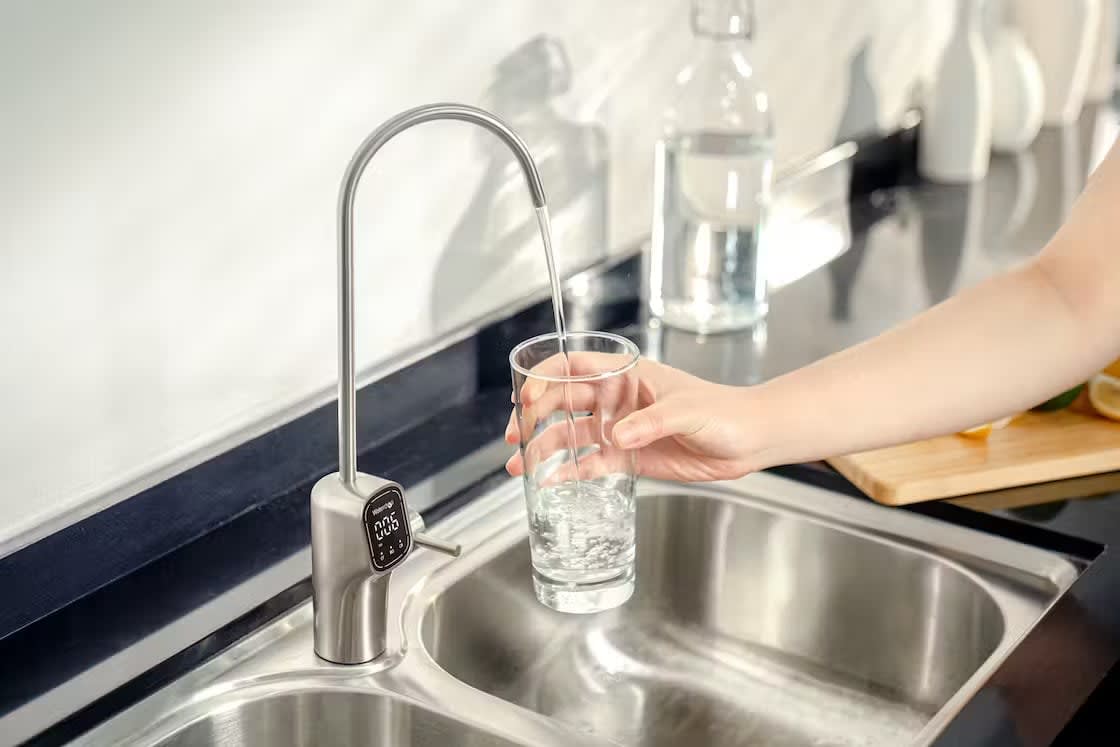 A water-filtration system like Waterdrop's G3P800 Reverse Osmosis system offers crisp, clean water in a refreshing, minimalist package. Crafted by a ceramic injection molding process, the space-saving design of the G3P800 blends seamlessly into modern kitchens and earned it a Red Dot Design Award.
Choosing the best water filter for your home will depend on your unique needs—and your unique aesthetic concerns, too. So, let's break down your options:
WHOLE-HOUSE WATER FILTERS
Connected to the main water supply line, a whole-house water filter strips out sediment and heavy metals before they make it through your home plumbing system. If you're concerned about unfiltered, potentially harmful water being used in your washing machine, dishwasher, and shower as well, this may be a good option for you.
COUNTERTOP WATER FILTERS
First, the big pro: a countertop water filter doesn't require any special plumbing. This type of water filtration system screws right onto faucets, allowing homeowners to quickly filter large amounts of water without too much elbow grease. Unfortunately, while it's a functional option for a high-volume kitchen, the look may be a little…industrial chic for most homes.
FAUCET-MOUNTED WATER FILTERS
A faucet-mounted water filter pops right onto your faucet spout, cleaning the water at the last possible moment. You'll get purified water right from the tap for drinking, washing up, and cooking. However, this tiny filter needs to be changed frequently and isn't always an easy match with your kitchen's hardware.
WATER-FILTER PITCHERS
Pour water from the tap into one of these pitchers, and the internal carbon filter will reduce the amount of contaminants in your H2O. For those simply interested in clean drinking water, this is an inexpensive option, but there is a cumbersome downside: the jugs need to be refilled frequently.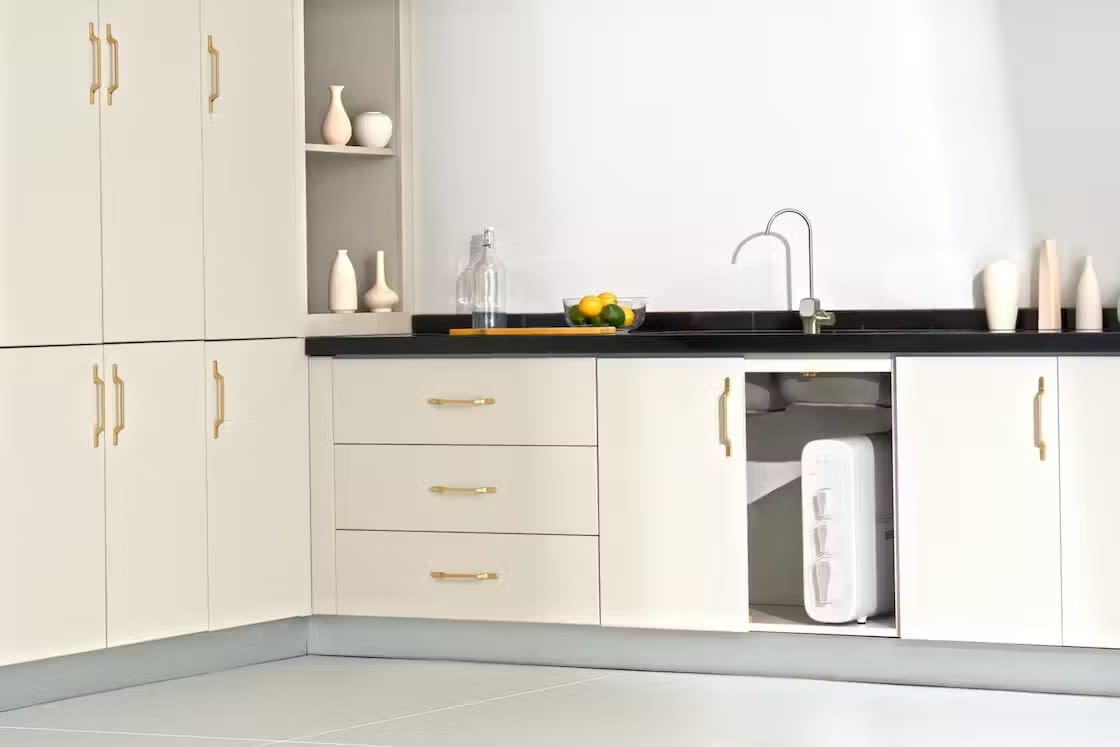 Selecting an under-sink water filter system keeps countertops clear of clutter. The Waterdrop G3P800 water filter, for example, tucks away neatly inside a cabinet.
UNDER-SINK WATER FILTERS
Full disclosure: we've saved the best for last here. For the design-minded homeowner with a desire for clean water, an under-sink water filter is easily the best filter solution for your home.
The
Waterdrop G3P800 RO System
is a prime example. The tankless design connects neatly to your under-sink plumbing, freeing up counter space while ensuring every glass of water poured is crisp and clean. (Plus, you'll get the peace of mind of knowing that every time you clean a dish, wash your veggies, or fill a pot of water to boil, you'll be using purified water to do so.)
The tankless, instant filtration system has an 800 gallons-per-day (GPD) capacity, a 3:1 pure-to-drain ratio, and can fill a cup of filtered water in just four seconds. Reverse osmosis (RO) is a process that uses a semi-permeable membrane to remove impurities from water, and RO systems are known for their high effectiveness in removing a wide range of contaminants from water, including bacteria, viruses, minerals, and chemicals.
The G3P800's nine-stage filtration reduces more than 1,000 harmful substances like rust, sediment, lead, chlorine, and arsenic, and has been certified under NSF/ANSI Standards 58 and 372—making it the first tankless RO system to achieve such.
And, if you do happen to get a glimpse of the G3P800 working away under the sink, the curved, minimalist design is a visual delight—no wonder Waterdrop is the proud recipient of a Red Dot Design Award.
The clean, white appearance of this G3P800 RO system is thanks to its injection molding technology, which incorporates 10 technical processes including the selection of quality materials, cleaning, drying, injection molding, polishing, screening, isolation coating, drying, screening, and back-protective coating printing. We'll say it: the G3P800 may just be the perfect fit for an integrated, minimalist kitchen.
Plus, the G3P800's smart digital display is mounted unobtrusively by the faucet to highlight water quality and filter lifespan. (That filter, by the way, is effortless to replace: just twist the pod-like inserts to remove.)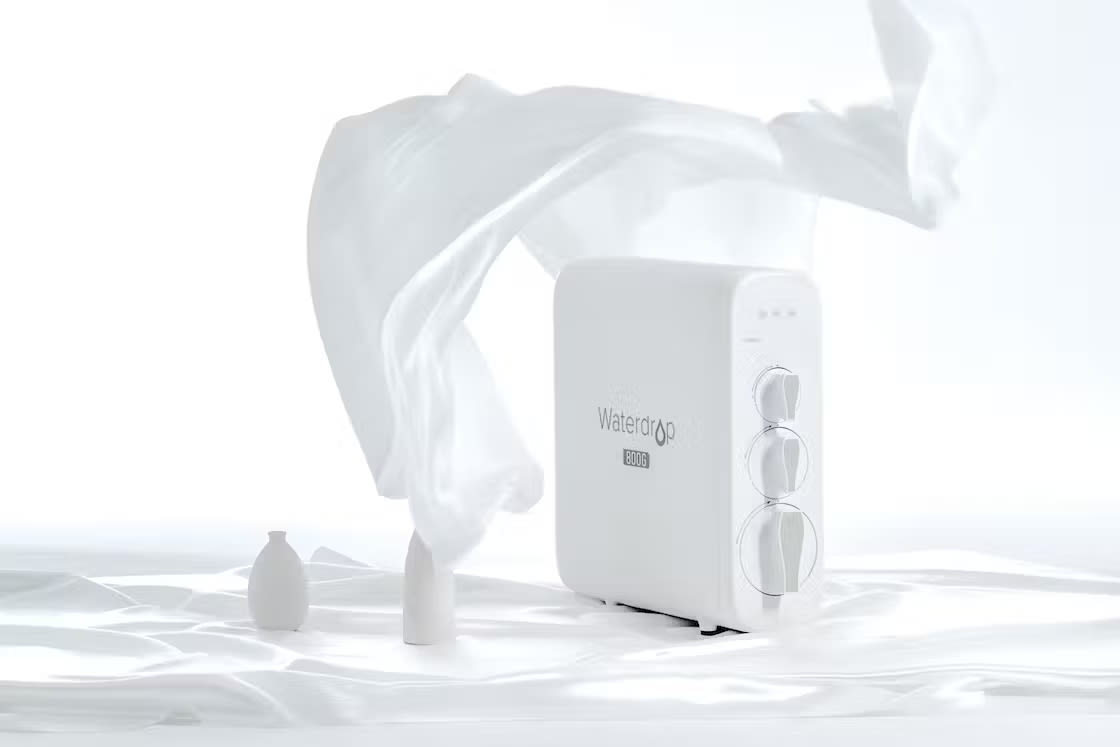 A well-designed filtration system is the perfect complement to a well-designed home.
And there you have it: Water filters 101. The bottom line? Having fresh, filtered water at your fingertips doesn't have to be a pipe dream—especially with the help of the easy-to-integrate, minimalist Waterdrop G3P800. Install this well-designed piece below your counter to bring pure, safe drinking water—and endless refreshment—home.