Petrossian at Tiffany is a chic and discreet restaurant that's among the best-kept secrets at South Coast Plaza and part of the luxury center's ongoing transformation.
The transformation of South Coast Plaza is an ongoing affair. Like OC's other iconic destination, Disneyland, Costa Mesa's center of fashion, culture, and commerce will never be complete as the world's most significant brands and boutiques vie to lease space there. And, once in, to move to better locations.
Dior and David Yurman recently migrated to gorgeous new stores, while Gucci, Cartier, Marni, and more will move into temporary locations as beautiful new and expanded boutiques are prepared. New brands recently debuted or coming soon to South Coast Plaza include Gentle Monster, Alexander Wang, Rimowa, and Byredo, all clustered around the magnet of global culinary cool that is Din Tai Fung.
Exclusive watch brands Patek Phillipe and Bucherer 1888 will have remodeled spaces at South Coast Plaza soon, joining other global timepiece brands with new and/or improved boutiques at the center: Breitling, Tudor, IWC Schaffhausen, Roger Dubuis, and Hublot.
L.A. brands Anine Bing and Reformation are hits with the cool eco-chic set, while athlete and street-wear fans are thrilled that JD Sports and HOKA have new spaces at South Coast Plaza.
The 2020s-era transformation also includes culinary cachet, as bespoke dining experiences replace the remaining chain restaurants. Bringing three iconic luxury brands together in one space is an accomplishment worthy of note: Tiffany & Co., Petrossian Caviar, and South Coast Plaza. The luxury jeweler has a jewel box of a dining destination nearly hidden toward the back of the boutique. It's not exactly a speakeasy, which is so au courant, unless there is an uber-refined version. But the semi-secret location does add to the ambiance of exclusivity.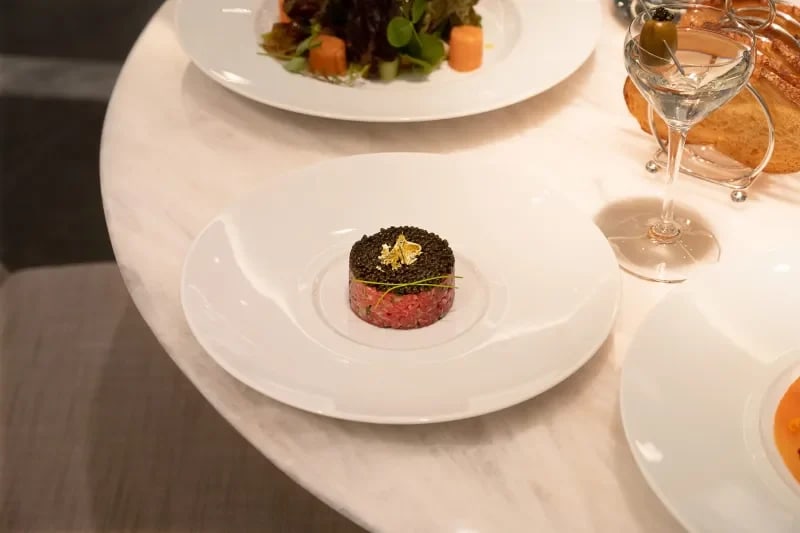 Chef Carlos Cabrera, who cooked at Le Cirque in New York City, oversees the caviar and Champagne-centric menu, offering pris- tine plates abundant with authentic French flavors, seasoned with California inspiration.
Caviar tastings are offered, served on mother of pearl spoons. The Tsar Imperial Flight includes Royal Baïka, special reserve Shassetra, fresh, fruity Ossetra, and buttery Kaluga Huso caviar. The menu is not only caviar, though who would complain? There is beef tartare, Kusshi oysters, hand-sliced smoked salmon and potato mille-feuille, and a luxurious soft scrambled egg royale. Are all served with, of course, premium caviar.
Just as Tiffany & Co. is iconic when it comes to jewelry, the Petrossian name is synonymous with taste and sophistication across the globe. Starting from a single boutique and using time-honored traditions, the brothers Petrossian perfected the art of caviar.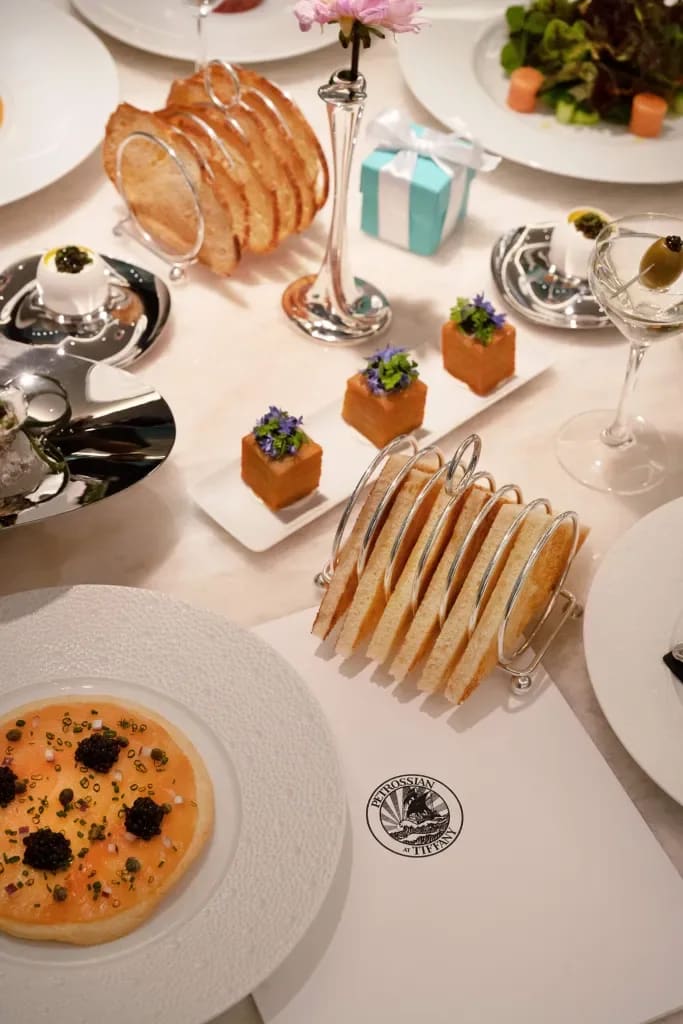 Nearly a century later, Petrossian remains a family company, dedicated to creating unforgettable culinary experiences through their restaurants and boutiques.
Petrossian at Tiffany is South Coast Plaza's version of a global trend where luxury brands offer couture x culinary collaboration. Others include Gucci Osteria in Florence, Seoul, Tokyo, and Beverly Hills; Chanel's Beige Alain Ducasse Tokyo; as well as Monsieur Dior and La Patisserie Dior in Paris.
It would not be surprising to see South Coast Plaza engage in more culinary collaborations in the future. And the chic caviar bistro is not the only discreetly placed culinary option at South Coast Plaza. There's also the Penthouse (Knife Pleat), the alleyway (Quattro's al fresco back patio), and the far corner of the lower level (Mah Jongs by Chef Mike at Collage). South Coast Plaza has all the culinary corners covered.